Reading Lists
"Politics ought to be the part-time profession of every citizen who would protect the rights and privileges of free men." -Dwight D. Eisenhower
---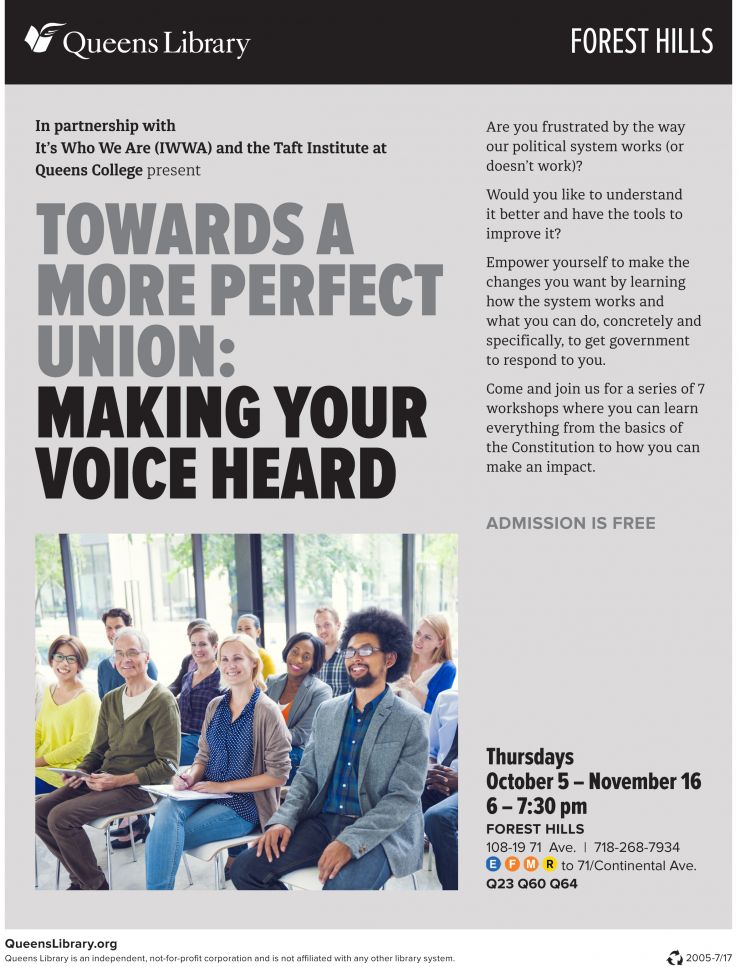 Professor Michael Krasner
The Taft Institute for Government and Let's Talk Democracy
READING LIST - TOWARD A MORE PERFECT UNION: MAKIG YOUR VOICE HEARD
Democracy—The Constitution and Civil Liberties
Charles Beard, AN ECONOMIC INTERPRETATION OF THE CONSTITUTION
Forrest McDonald, WE THE PEOPLE
Robert Dahl, A PREFACE TO DEMOCRATIC THEORY
Charlie Savage, POWER WARS
Jeremy Scahill, DIRTY WARS (ALSO A FILM)
Akhil Reed Amar, THE CONSTITUTION TODAY
Anthony Lewis, FREEDOM FOR THE THOUGHT WE HATE
Jane Mayer, THE DARK SIDE
The Trend Toward Oligarchy in the U.S.A.
Thomas Mann and Norman Ornstein, IT'S EVEN WORSE THAN IT LOOKS
Jacob Hacker and Paul Pierson, WINNER-TAKE-ALL POLITICS
Jane Mayer, DARK MONEY
Benjamin Page and Martin Gillens, DEMOCRACY IN AMERICA
Martin Gilens and Benjamin I. Page, "Testing Theories of American Politics: Elites, Interest Groups, and Average Citizens" VIEW ARTICLE
Understanding 2016
Jane Mayer, "The Reclusive Hedge-Fund Tycoon Behind the Trump Presidency," The New Yorker, March 27, 2017
J.D. Vance, HILLBILLY ELEGY
*Arlie Russell Hochschild, STRANGERS IN THEIR OWN LAND
Jonathan Allen and Amie Parnes, SHATTERED
Katherine Cramer, THE POLITICS OF RESENTMENT
Kurt Anderson, FANTASYLAND
Michael Kimmel, ANGRY WHITE MEN
Bethany Albertson and Shana Kushner Gadarian, ANXIOUS POLITICS
Michael Tesler, POST-RACIAL OR MOST-RACIAL
The Future
E.J. Dionne, Thomas Mann, and Norman Ornstein, ONE NATION AFTER TRUMP
Naomi Klein, NO IS NOT ENOUGH
David Cole and Melanie Wachtell Stinnett, RULES FOR RESISTANCE
Bernie Sanders, OUR REVOLUTION
Markos Moulitsas and Michael Huttner, THE RESISTANCE HANDBOOK
Laura Ingram, BILLIONAIRE AT THE BARRICADES
Ann Coulter, IN TRUMP WE TRUST
---
Constitutition of the United States
We the People of the United States, in Order to form a more perfect Union, establish Justice, insure domestic Tranquility, provide for the common defence, promote the general Welfare, and secure the Blessings of Liberty to ourselves and our Posterity, do ordain and establish this Constitution for the United States of America.
Read the full TRANSCRIPT at the National Archives.
---
The U.S. Bill of Rights
Constitutional Amendments 1-10 make up what is known as The Bill of Rights. Amendments 11-27 are listed after.
---
The Universal Declaraton of Human Rights
The Universal Declaration of Human Rights, drafted by representatives from around the world, was proclaimed by the United Nations General Assembly in 1948 as a common standard of achievements for all peoples and all nations. As the chair of the United Nations Human Rights Commission, Eleanor Roosevelt was the driving force in creating the 1948 charter of liberties which will always be her legacy.