2021 Events
"Politics ought to be the part-time profession of every citizen who would protect the rights and privileges of free men." - Dwight D. Eisenhower
---
EVENT CANCELLED
CHECK BACK NEXT WEEK FOR NEW EVENT
Basic Zoom Instructions

To join our Zoom Meeting, you have to have the Zoom App. Click on the link provided above to go to the Zoom website page. You will be prompted to download the app (very quick process) and then prompted to enter the meeting ID and the password (also provided above). You can join with video/audio or audio only. Once the hosts admits you, you will be able to see the speaker and participants. Make sure you click the video camera icon so initate your video.

If you have a question or comment we ask that you use the "raise hand" feature to indicate when they would like to speak. To accomodate everyone, please keep to a 2 minute limit.

See you at the meeting!
Virtual LTD Forum: Biden's First 100 Days CANCELLED
THURS, MARCH 4, 2021, 5:30 - 6:30PM
Join us this month as Let's Talk Democracy presents Congresswoman Grace Meng. She brings an insider's view in her discussion about the priorities of the Biden Administration, her perspective of January 6th as someone who was there, and the role of women in government.
Bring your questions, concerns, comments. Tell friends, neighbors, family members. All invited on ZOOM.
All invited. Join us and spread the word!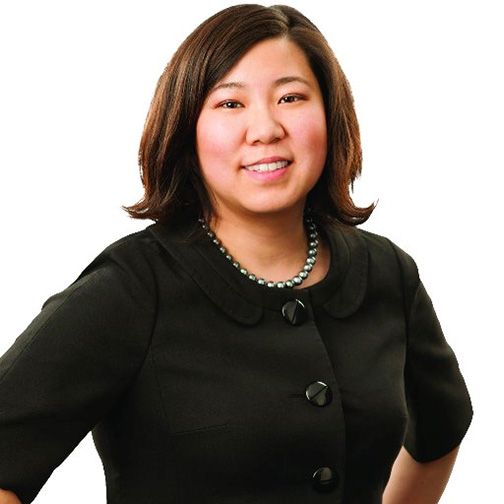 ABOUT GRACE MENG
Grace Meng is an American lawyer and politician serving as a Democratic member of the U.S. House of Representatives (for New York's 6th congressional district in Queens, NYC) and is Vice Chair of the DNC. Previously, she served as a member of NY State Assembly, representing the 22nd assembly district in Flushing, Queens. She is the first Asian American to be elected to Congress from New York.
---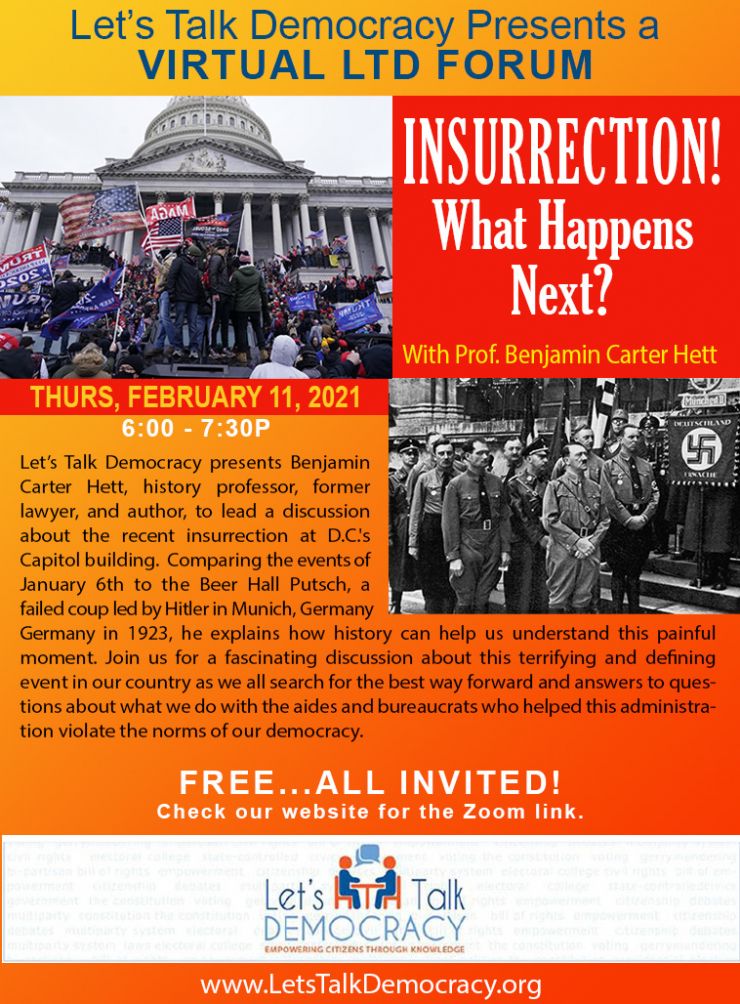 Virtual LTD Forum: INSURRECTION! What Happens Next?
THURS, February 11, 2021, 6:00 - 7:30PM
Let's Talk Democracy presents Benjamin Carter Hett, history professor, former lawyer and author, to lead a discussion about the recent insurrection at D.C.'s Capitol building. Comparing the events of January 6th to the Beer Hall Putsch, a failed coup led by Hitler in Munich Germany in 1923, he explains how history can help us understand this painful moment. Join us for a fascinating discussion about this terrifying and defining event in our country as we all search for the best way forward and answers to questions about what we do with the aides and bureaucrats who helped this administration violate the norms of our democracy. All invited. Join us and spread the word!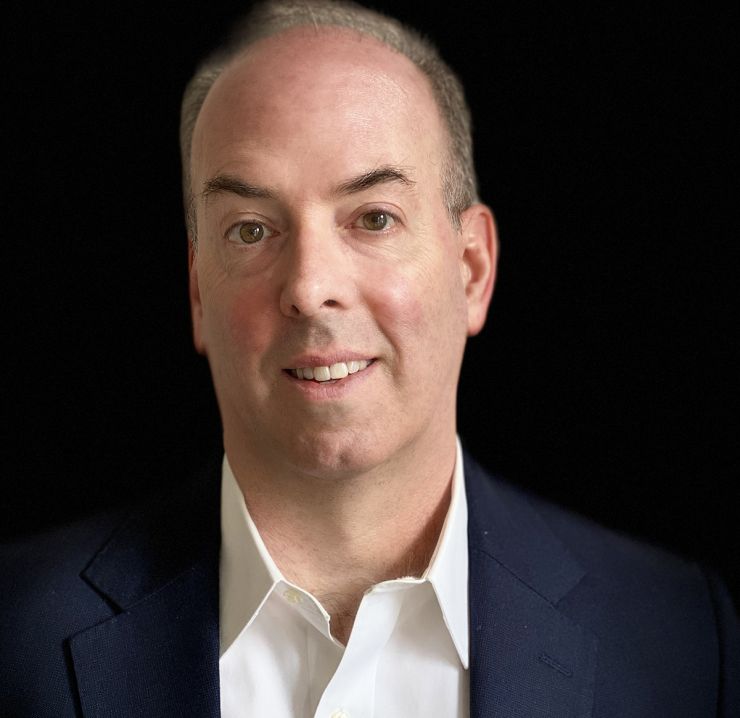 ABOUT BENJAMIN CARTER HETT
A professor of history at Hunter College and the Graduate Center, City University of New York, Professor Hett is a 2009 Guggenheim Fellowship winner for the Humanities. He is the author of several award-winning books, including Burning the Reichstag and The Death of Democracy, and makes regular appearances as a speaker, on radio, television, and podcasts, and in historical documentaries. For more info: Benjamin Carter Hett
The Zoom link will be posted before the event.
Sign up for our emails and receive event info directly.
---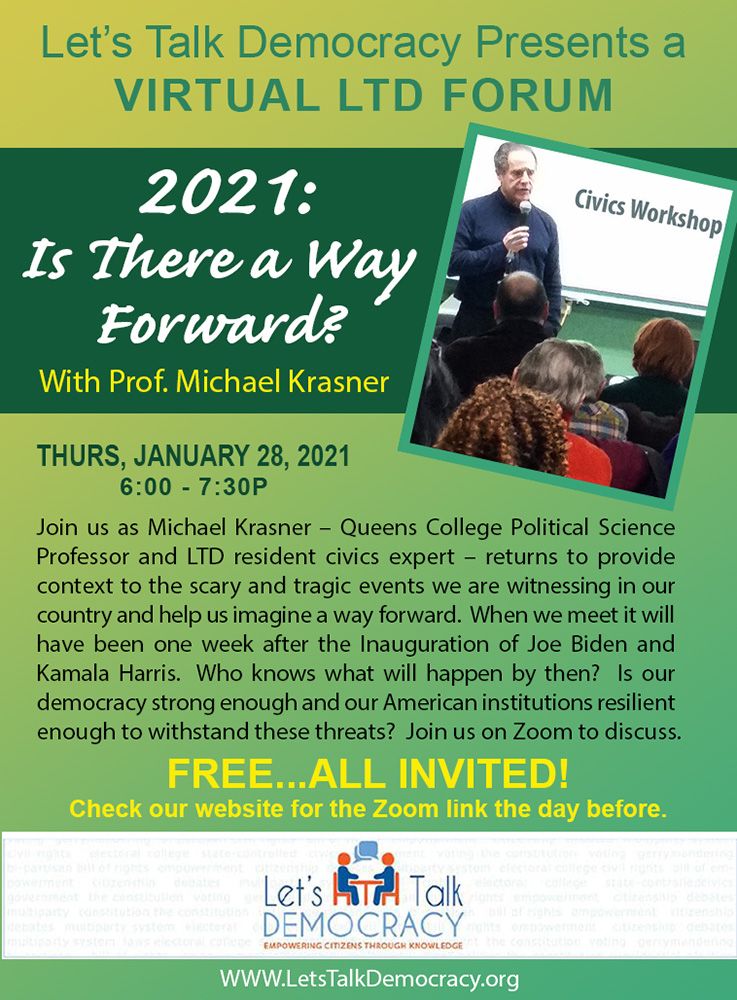 MISSED THE FORUM? WATCH THE ZOOM VIDEO!
Virtual LTD Forum: 2021 - Is There a Way Forward?
THURS, JANUARY 28, 2021, 6:00 - 7:30PM
The election and the year 2020 are over. But the new year has brought a new onslaught of challenges. Join us as Prof. Michael Krasner reviews recent post-election events and explains the possibilities -- and gives us hope -- for a way forward as the country prepares for the transition of a new administration.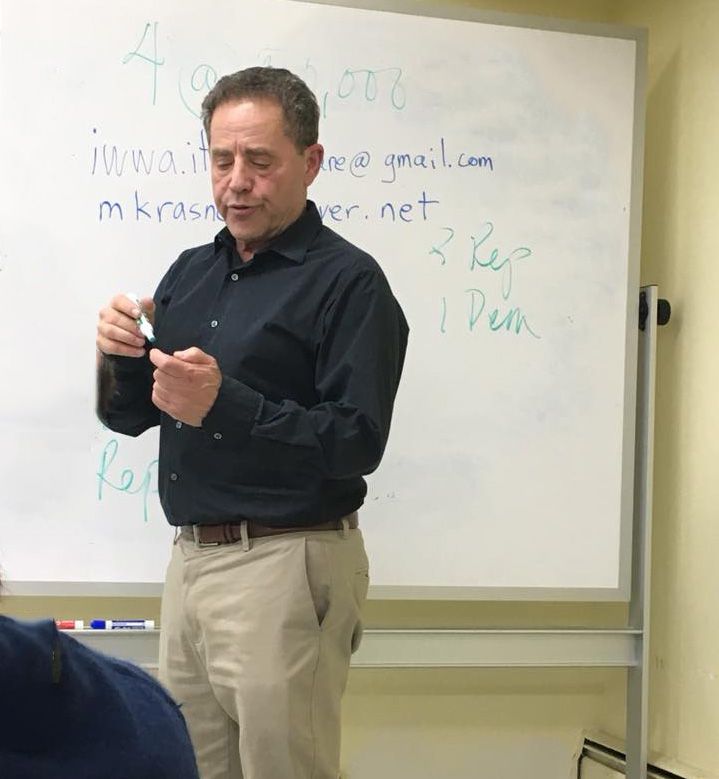 ABOUT MICHAEL KRASNER, PROFESSOR AT QUEENS COLLEGE
An expert in American government and politics, Michael Krasner is co-director of Queen's College's Taft Institute for Government, which promotes better understanding of the political process among young people. Since 1970 he has taught courses on politics and the media; presidential, gubernatorial and mayoral elections; American foreign policy; public policy; and arms control and disarmament.
More information on Prof. Krasner : Queens Collge | Taft Institute
---
Past Events
---
---
Many Thanks to Our Supporters
We are deeply grateful to Michael Krasner for his scholastic contributions to our first workshop series. His willingness to show up to our first session in spite of a personal injury that day is a testiment to his unfailing commitment to our cause.

We greatly appreciate the extraordinary support of The Taft Institute at Queens College and the help that allowed us to realize our dream.

We are very grateful to Queens Library for their ongoing support of our organization and to the Forest Hills branch in particular for providing a welcoming venue for our events and activities.

Special thanks to the NY Public Library and the Seward Park Brnach for their help in our expansion to Manhattan.